Rubber covered fire hose
---
Item No.:WFH001 Material:Polyester Working Pressure:6bar To 21bar Type:Single Jacket Fire Hose Diameter:1inch-8inch Keyword:PVC Fire Hose Color:White Delivery Time:15-20days Application:Construction,Marine,Factory & Cabinet Packing:Bags Or Carton

Light Weight Easy Winding PVC Fire Hose
High tensile strength ring-spun polyester yarn with a flexible PVC liner which is good in elasticity and light in weight.
Features and benefits
-Innovative Design. Premium quality, single in jacket,PVC lined fire hose made from 100% high tensile strength ring-spun polyester yarn.
-Smooth Operating. Outer jacket is manufactured with a tight weave with a high "pick" count to virtually eliminate snagging and pulling while on the fireground.
-Flexible. Hose may be used in temperatures from -25° F (-31° C) to 185° F (+85° C) without stiffening.
-Identifiable. Optional color-coded stripe of one contrasting color can be woven into the outer jacket running the full length of the hose.
-Versatile. Suitable for use with Construction,Marine,Factory & Cabinet solutions.
-Certified. Manufactured within our ISO-9001 certified quality assurance system.

*Couplings: Aluminum & Brass NPSH / NST / IPT expansion ring threaded coupling, Aluminum Storz, instantaneous BS couplings or other type of couplings on request.
Specification: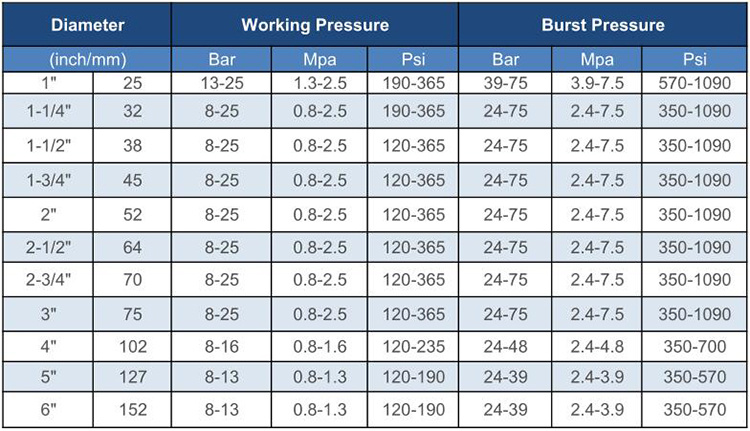 We serve customers for over 30 years — so we've got the knowledge and industry experience to help you get it right.
Note: Please leave your email, our professional person will contact you asap!