PVC covered fire hose
---
Item No.:WFH004 Material:Strong Polyester Working Pressure:6Bar-21Bar Type:Single Jacket Fire Hose Diameter:2 Inch To 8 Inch Keyword:PVC Fire Hose Color:White Delivery Time:7 Days To 15 Days Application:Construction Site,Agritulture,Factory Packing:4pcs/Woven Bag,Or Carton

Patented Rugged Flexible Bold Twill Grain PVC Fire Hose
This Fire Hose is made of 100% high tensile strength ring-spun polyester yarn. Specially woven jacket even extends the life of the hose, greatly increases abrasion enduring abrasion test 100 times/min.
Features and benefits
-Innovative Design. Patented grain design with premium quality, single in jacket, pvc line fire hose made from 100% high tensile strength ring-spun polyester yarn.
-Sturdy. Jacket is manufactured with a tight weave with bold twill grain to enhance resistance to abrasion.
-Identifiable. Optional color-coded stripe of one contrasting color can be woven into the outer jacket running the full length of the hose.
-Versatile. Suitable for use with Construction,Marine,Factory & Cabinet solutions.
-Certified. Manufactured within our ISO-9001 certified quality assurance system.

*Couplings: Aluminum & Brass NPSH / NST / IPT expansion ring threaded coupling, Aluminum Storz, instantaneous BS couplings or other type of couplings on request.
Bold Twill Grain PVC Fire Hose Specification: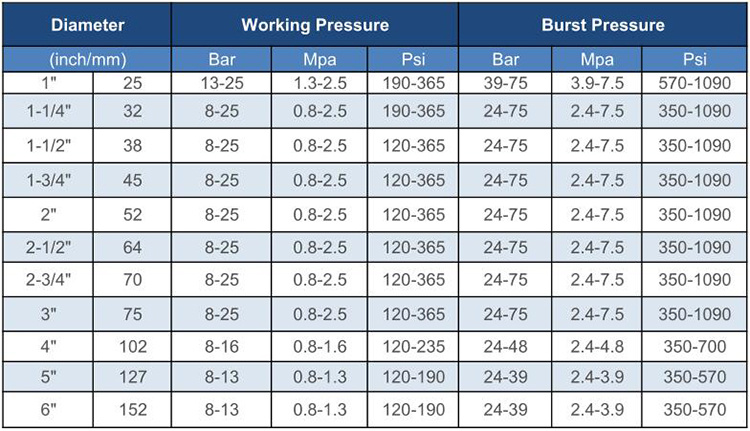 We serve customers for over 30 years — so we've got the knowledge and industry experience to help you get it right.
Let the professionals at Winner Fire help you select the products that meet your exact needs.
Send inquiry now.
Note: Please leave your email, our professional person will contact you asap!