3/4 Inch 19mm Manual Fire Hose Reel
---
Product Origin:China Color:Red
3/4 inch 19mm Manual Fire Hose Reel
1)1.Fire Hose Reels provide a reasonably accessible and controlled supply of water to combat a potential Class A fire risk.Various types of Fire Hose Reels are available to meet specific needs.
2.A control nozzle attached to the end of the hose enables the operator to control the direction and flow of water to the fire.
Suitable for schools, movie theatre, warehouses or anywhere with paper, cardboard, curtains, cloth, wood, carpet

Specification:
1. manual fixed type
2.We can provide length: 10m - 30m or according to your requirement
3.Make according to the GB6246-2001 and CNCA-09C-045:2011 standards.
JPS series Fire Hose Reel is a kind of indoor fixed type fire control facility. Its operation is easy and flexible for people of all ages. This facility is the first choice for fire control in shopping malls, hotels, stockrooms and houses, etc
Fire Hose Reel Specifications
Model & Specification
Rated Working Pressure
Jetting Test Pressure
Jetting Range
Flow
Hose Inner Diameter
Hose Length
(Mpa)
(Mpa)
(M)
(L/min)
(mm)
(m)
JPS0.8-19/20
0.8
0.4
≥6
≥24
19
20
JPS0.8-19/25
25
How To Roll Hose On Reel:
(1) Lay the hose straight and flat on the ground.(2) Fold the hose in half laying flat on the ground so that the couplings are together one above the other. One half is now laying flat on top of the other half.
(3) Roll the hose on the reel, beginning at the folded end that does not contain the couplings. You should end with a nozzle and a female coupling.
(4) Attach female coupling to water source so hose is ready for immediate use. Hose must be unrolled before water valve is opened.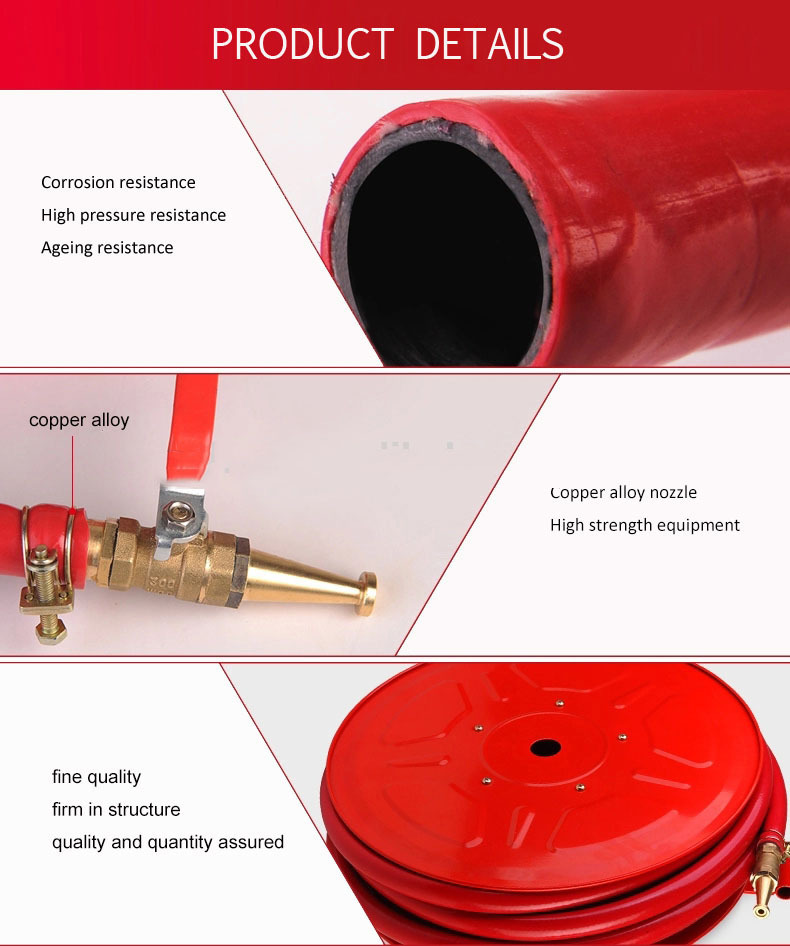 Note: Please leave your email, our professional person will contact you asap!